Do you love Valentine's Day? I used to hate it, and told my husband so when we first started dating. Year after year passed with me scoffing at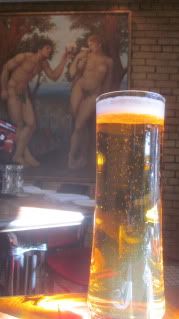 what I viewed as commercialism of the holiday as he, well, remained indifferent, though probably relieved that my expectations were low. It wasn't until two years ago, when I was helping Sam prepare his Toy Story valentines for school, when I became inexplicably interested in celebrating.
All of a sudden I felt like the fact that we didn't do anything special on Valentine's Day was a major indication of our feelings for each other. I mentioned going out for dinner and got really touchy when he…remained indifferent. Then I set about making reservations and finding a babysitter, but naturally, it being February 13, wasn't able to accomplish either. To make a long story short, I completely lost my cool when he said the inevitable "But…you've never cared about Valentine's Day!", even though it was true. I stormed out of the house for an angry walk and nearly burst into tears when I saw some other woman's (or man's) significant other walk up a driveway with a bouquet of flowers.
I know that I acted irrationally and overreacted to boot, but that night Brian and I had a good talk. He said that he'd always agreed with me that there didn't need to be a day set aside specifically for love, but he'd also never hated the holiday like I'd always claimed to. I said I didn't know what brought on my wanting to celebrate it, and he joked that having children must have unfrozen my heart! Then we agreed to celebrate the next year, because, hey, there wasn't really any harm in it, after all. We agreed to take turns organizing each year's outing, and he (very gallantly, I thought) offered to go first. In 2011, Brian and I went to dinner at Gio Rana's (one of my favourites) and a movie, and I was pleasantly shocked by the new pair of earrings he gave me.
This year was my turn to plan Valentine's, and I spent at least a week mulling over menus of some of the most romantic restaurants in Toronto. I was just starting to analyze wine lists when I realized I'd become a complete parody of myself, looking up the most expensive restaurants in town to blow money on just because it happened to be Feb. 14. I also reminded myself that seven-course dining isn't really Brian's thing. "That's it!" I thought, and "Duh!"
Nothing would make Brian happier than a pint of Belgian and some good old-fashioned pub food. We were going to Bier Markt.
It was a great decision; he couldn't believe it! Bier Markt may not sound like the most romantic of locations, but beer is the way to a man's heart, and the grin on his face as we sat down was much brighter than the single flickering candles that have come to be associated with romancing. Ironically, theirs was the one menu I didn't pick apart, so
I was overjoyed when I saw FONDUE on the menu. Funny how things work out sometimes, isn't it? Brian had his best Valentine's ever at Bier Markt, and I did too, because there's nothing better than making the person you love feel very happy, after the Chocolate Peanut Butter Fondue, of course.
Click here to enter a contest for a $75 Bier Markt gift card!