Well you know me, I love food…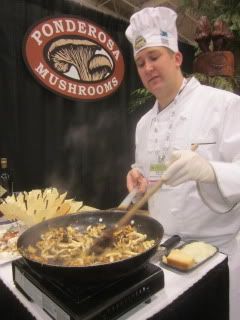 And the CRFA's (Canadian Restaurants and Foodservices Association's) annual show at Exhibition Place is for those who love food. I spent a very happy Monday morning meandering (I confess this word annoys me sometimes but it really seems fitting here) from booth to booth and–at the risk of sounding melodramatic–from wonder to wonder.
I haven't decided yet whether or not it was a blessing that I ate a wholesome breakfast of oats and strawberries this morning. I didn't want to overeat, and it worked–I only grazed on healthy foods I really wanted to try. But now that I'm home I'm starting to regret my restraint…those desserts…and those cheeses, and even though I'm vegetarian the meats looked tasty, and…would 10 AM really have been too early to sample a nice beer? I'd like to think it was all a moveable feast I could carry around with me in spirit and in mind, but something tells me I'm going to have to physically stop at the cheese shop tomorrow after I go to the bakery.
Apart from the food, which was glorious and beautiful, there was another focus to the event, and that was technology–whether it was new equipment for the kitchen, new software for restaurants or a presentation on how social media can spread the word about your restaurant (or anything really!) online.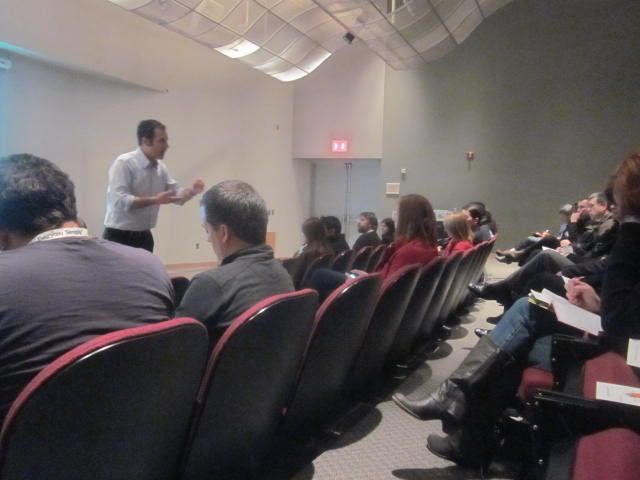 I caught Rob Campbell AKA Smojoe give a talk at high noon about navigating the internet to your best possible advantage using storytelling funneled through all varieties of free online mediums. As a blogger, I found the talk extremely useful, and Campbell was an engaging speaker (and a little eccentric!) which made it entertaining. I learned a lot about what Google considers to be relevant in terms of web searches. Someone told me recently, I think at a Reiki healing event I attended with a friend, that you usually walk away from a presentation having learned one key thing to take home with you (let's hope so!) Rob Campbell's presentation today left me with a lot to think about. In fact, I'm even blogging differently.
I guess in the end the oatmeal was a good idea–there's no way you would have found me in a CRFA lecture room for business management consulting at lunchtime otherwise.